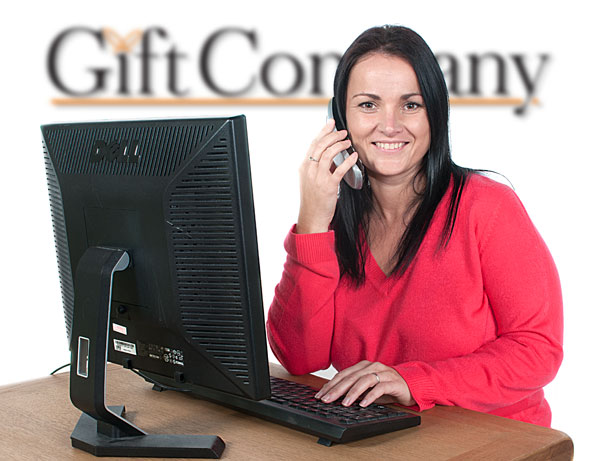 We want you to be happy with everything you buy from Gift Company and we pride ourselves on providing a professional and enjoyable shopping experience. We have all had bad experiences with returning items and faulty items with different retailers over the years so our experienced, friendly team are here to make sure that if you do decide to return or exchange an item we will make this a friendly and painless experience.


Whether you're looking for answers, would like to solve a problem, or just want to let us know how we did, you'll find many ways to contact us right here. We'll help you resolve your issues quickly and easily.




FAQ


Products
Q. Who designs your products?
A. We do - over 1000 every season - if you have any good ideas please feel free to let us know!


Q. Is it recycled tin on the bottle holders?
A. Yes, 80% of each wine bottle holder is made from recycled tin.


Q. Is the garden range frost proof?
A. We can't guarantee that all our garden range can survive the more extreme British weather, but it
should survive in milder conditions!


Q. Where is the furniture from?
A. Our oak and pine ranges are sourced from sustainable managed forests around the world and hand finished in
Vietnam which we import directly and price it to be the lowest in the UK!

Q. Does your Salisbury Furniture match the colour of your Salisbury Petite?
A. Yes, absolutely. It is made from the same wood, with the same staining.
Q. Can I put the painted glassware in my dishwasher to clean them?
A. Due to their designs the painted glassware ranges are not dishwasher safe.
Q.Why isn't your full range on website?
A. Although we do try to have as many lines as possible featured on website sometimes this is not possible due to the fragile nature or availability of products.
Q. Will you price match furniture?
A. We will certainly look at price matching our furniture although other retailers sell similar ranges that are not identical so we would be unable to match on those occasions, other retailers might also have actual lower prices but when you come to checkout there is a large delivery charge, we keep our prices low to start with and included free delivery.

Q. What is your company policy regarding Waste disposal of Electrical and Electronic Equipment?
A. As a company we are members of the WEEE Distributor Takeback Scheme (DTS)

Click here to read more about WEEE Distributor Takeback Scheme!


Orders and Deliveries
Q. Are furniture deliveries free?
A. Yes, all our furniture deliveries are free to UK Mainland.


Q. When will I receive my order?
A. Please allow up to three weeks for furniture deliveries, our delivery team will contact you direct within 72hrs after the order has been placed to arrange delivery. For giftware, we aim to get your deliveries to you within five working days.


Q. How much is postage on Gift items?
A. All gift items have a postage cost of £4.95 and our sent out via DPD couriers.


Q. Can DPD deliver in the afternoon and leave with a neighbour if I am not in?
A. Unfortunately we cannot select a timed delivery with DPD but they can leave your item in a safe place or with a neighbour.


Q. Do you deliver abroad and how do I know how much will it be?
A. Yes, we are more than happy to deliver outside Mainland UK but we can only process these orders over the phone or email – we will need a full address and list of items you wish to purchase in order to get a delivery quote.

Q. Do you deliver on Saturdays, and how much will it be?
A. Yes, we are more than happy to deliver on Saturdays using a third party palletised courier. This costs a flat rate of £30 for UK Mainland addresses but we can only process orders with this specification over the phone.


Q .What is your refund and exchange policy?
A. If you are not entirely satisfied we offer a cooling off period where you can return your order for any reason, at any time within 30 days after day of receipt, for a refund or exchange. If you have any faulty or damaged goods, then please contact us via any of the options above so we can either arrange a refund or get a replacement sent out to you. At the point of delivery, if you are not satisfied with your order the driver will not be able to take the goods away, you will need to take the goods in and notify us immediately so that we can arrange a replacement or a collection as soon as we possibly can. This does not affect your statutory rights.

Q. Can I cancel my order if I change my mind?
A. Of course! Let us know as soon as possible and we'll get your order cancelled and we'll give you a full refund.

Q. I've had my item for over a month and intended to give it as a gift. This is now no longer the case - can I return it?
A. Unfortunately as it has passed the 30 days, we cannot refund your order - but you can give it as a gift to another person, keep it or give it to a charity shop.

Q. What if I order something and it goes out of stock before you can dispatch it?
A. If this happens (its rare, but it does happen!) then we endevour to source your item from one of our stores. If this incurs a delay we will let you know but we will try and fulfull your order to the best of our ability. If we are unable to fulfill the order we will refund any funds paid to us and cancel your order with apologies.

Q. What happens if something is incorrectly priced on the web and I purchase it?
A. In this case, if the difference in price is just a few pounds, we would honour it as a gesture of goodwill. If you paid more for an item online than you would in store then we will refund you the difference with apologies as soon as possible. In the case of large and clearly erroneous price discrepancies (for example, an item costing £600, being advertised at £6), we would cancel the order, and take the item in question off sale. We will, of course, fully refund any sums paid via the original payment method.

Q. I've had my furniture for over a year, and notice a chip/discolouration on it - is there anything you can do?
A. Unfortunately we are not able to exchange furniture after it has been in your possession for a year - but feel free to email us and we will try and offer furniture care advice, or point you in the direction of someone who might be able to help.